In 2020, Mitsubishi is committed to designing innovative models without compromising performance and comfort. Improving on the predecessor model to ensure both superior electrical vehicle and environmental benefits. The Outlander PHEV is Australia's most popular Plug-in hybrid electric vehicle due its unique electric driving experience with AWD performance. Separately mounted motors at the front and back delivers incredible AWD performance ensuring stability and handling.
The Outlander combines the best of both worlds, it's a crossover with 4×4 off-road capabilities that uses both electric and gas power. It can be recharged by plugging it into a Mitsubishi charger as well as its onboard engine and generator. For the Outlander EV mode, the car delivers up to 48km from a full charge with zero CO2 tailpipe emissions.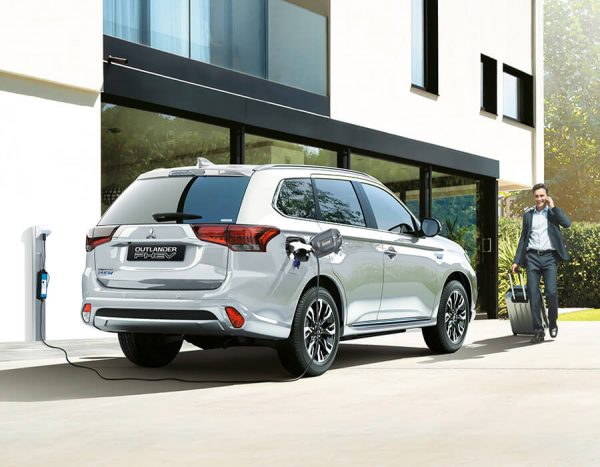 Mitsubishi Outlander includes a standard Mitsubishi portable charging cable that plugs into a 3pin standard power outlet. This is perfect for low range driving and urban roads due to its regenerative braking. This is a great solution for local, low range commutes however the standard outlet can take up to 6.5 hours to fully charge the battery. The charging rate is also capped at 3.7kW capacity with single phase 16A.  However, with a road trip that is greater than 50km range will be slightly difficult hence the petrol side of the engine is used to further continue the journey.
The 12kW battery is charged using a Type 1 cable or a public DC charger with CHADeMO plug. The DC charger will be able to rapidly charge the car in less than 30 min compared to the AC charge of 6.5 hrs. There are a few sceptics that may undermine the car's ability for long drivers. However, with a bit more planning and choosing an optimal route that includes EV chargers, not to forget its 45-litre fuel tank that will support in the journey of your trip.
EV road trip planners provide EV drivers with the necessary Mitsubishi charging station information to get from Point A to Point B without any range anxiety. EV road trip planners also provide the option of overnight stay and charging needs near restaurants and shopping malls to reduce ideal boredom time when charging. Taking into consideration theoretical (on the website) range values are slightly higher than actual values for multiple reasons.
Mitsubishi Australia have positioned as an innovative company with constant evolution, with the recent revelation of the Mitsubishi Eclipse PHEV. The second-generation of PHEV is aligned to be an improved iteration of the Outlander, while at the same cheaper than outlander. With a slightly higher 13.8kW battery, gives Eclipse range of 70km. As the competition increases, the fight for mass market continues.