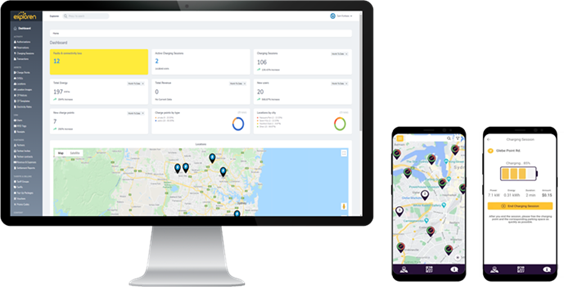 Australian Owned and Hosted
Exploren is written with Open Charge Point Protocol meaning it is open access and not restricted like many propriety software offerings from our competitors. The Exploren platform is compatible with over 40 different OCPP Chargers making it the most integrated charging software in Australia.
Our software is Australian owned and hosted which means your data is subject Australian law. Furthermore your data remains your exclusive property and will not be shared.
Exploren is the perfect plug-in partner that allows you to focus on what your business does best.
Your Location, Your Style
It's not our network it's yours. We've created Australia's open network where our customers have full control over their sites
Exploren unlike other platforms does not impose control and give our customers unrivaled control
Set your own electricity rates
Bill by time and electricity
Promotions and specials
Link RFID to your APP for faster access and usability underground
Automated Plugshare integration
Exploren has been designed to have the user experience as the core of it's technology. We believe owning an EV should be easier than an internal combustion vehicle today. Not tomorrow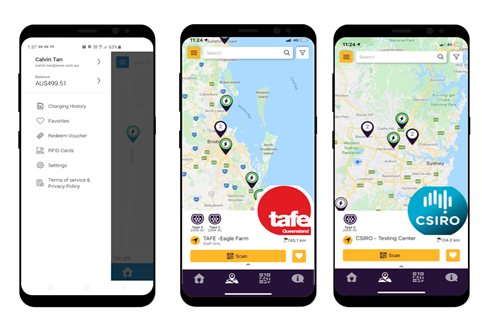 OCPP EV Charger Software Solution
EVSE gives you access to a team of technicians that will be able to help you with any hardware or software issues. We have a nationwide team of electricians that will be able to install, repair or advise you on any charging solutions.
How does Exploren integrate into the EV Charger?
Smart OCPP-enabled chargers can be commissioned pre-dispatch from EVSE, or retroactively for already-established smart chargers. The chargepoint owners can then monitor, analyse, and control the billing of the chargepoint.
What costs do I need to consider before purchasing the Exploren system?
Costs for Exploren come in the form of software, hardware, and installation. When purchasing OCPP-enabled chargers, some things to consider are:
How many charging stations will I need?
How many clusters of chargers will my development need?
Do I want to bill my customers?
What charging speed do I need?
Answering these questions will allow EVSE charging experts to determine the right hardware for your solution.
Some other factors to take into consideration are:
Distance from your power source to where you would like your charger installed
Any upgrades needed to the distribution board
Excavation and cable trays needed
All non-residential developments are site inspected and then a quote and a report are created.
Exploren has a small data management fee attached per charger, as well as an annual internet data fee if it is needed. If a 4G connection is required this may also be another fee.
For more information on costs feel free to call EVSE on 1300 406 210.
What is load management, and what types of load management do you offer?
Load management is used when the power needed for the charging stations exceeds the power available from the building's electrical supply. Load management allows the charging station manager to sit at ease knowing that the charging station is not going to trip the switchboard. The Exploren system has three forms of load management, active (dynamically adjusts the power usage of the EV chargers in accordance to the power remaining on the building), static (Sets a limit on how much power the EV Charger uses), scheduled (allows the user to schedule their charging sessions, allowing the user to make the most of off-peak tariffs). Load management gives customisation to the user, it is to be noted that these functions do not come at an extra cost.
Key Terms
Private charging
(Only allows authorised users to operate the charging station.)
RFID
(Radio frequency identification allows a user to authenticate their session using an RFID card.)
Minimum payment
(Bills its users a minimum payment regardless of their charging time.)
Primary parking rate
(The rate at which you would want to charge your customers, this can be billed in $AU/kWh or $AU/min)
Primary rate period
(This function can be introduced if the charging station operator wishes to introduce a promotional rate, alongside the primary rate. This can allow a manager to charge more per hour/ per kWh for longer charges.)
Enable kWh Billing
(Allows for a user to charge for kWh instead of $AU/min.)
Can Exploren Link to my home for Fleet and Business Expensing
Yes! Exploren can be enabled to track charging data across multiple locations and smart chargers. This can be monitored and controlled via an online portal, which can be accessed via a smartphone application or a computer. It's the modern solution to what fuel cards have been for fleets.
Contact us for all Electric Vehicle Charging
Solutions and Accessories Across Australia
& New Zealand.
EVSE believes in a green sustainable future by delivering the latest EV Charging technology at the lowest price. All our work is certified and guaranteed with the backing of global brands.
Our team of experts can provide specialist EVSE advice and are available to answer any of your questions over the phone