Finally received your brand-new EV, what now?
EV Home Charger
Whether you have a Tesla, Hyundai EV or a Nissan Leaf, they will all come with some form of accessories to allow the driver to charge the car.  So what do they offer and what are the differences?
Nissan Leaf – The new 2019 Nissan Leaf comes with a charging cable that allows the driver to plug into any universal charging stations offered in public carparks or Nissan home charging stations
Hyundai EVs – Hyundai EVs come equipped with portable chargers that allow drivers to charge their cars using a standard 10amp Australian outlet. This does mean the charging rate is significantly slower compared to that of a hyundai home charger.
Tesla Home Charger – Tesla Model 3 offers a level 2 home charging station that is hardwired and allows a more rapid top-up. This also applies for the Model X, Model S, Model Y and the Tesla cybertruck
For some EV drivers, such as those with Plug-In Hybrid Electric Vehicles (PHEV) with a small range 30-50km, the standard portable charger that comes with the vehicle may be enough to cover their needs. These trickle chargers can plug into a 10amp or 15amp home socket, and will very slowly charge the car over a full night (8-12 hours).
For current fully electric vehicles with bigger batteries, a portable charger may get the job done but will require a significant amount of time just to top up a small percentage.
Why do I need a specific home charger?
The reality is 80-90% of EV charging is done at home overnight during off-peak times when electricity prices and demand on the grid is at it's lowest. When you wake up in the morning you want there to be a fully charged EV to kick start your day and not a half-charged EV that will give you range anxiety in the middle of the day. Therefore finding the right charging station for your home is extremely important.
A specific level 2 electric vehicle charger would be the ideal solution for home charging applications. Take the EO Mini Home for example. It's a 7kW charging station that can charge your EV from 0-100% in about 5 hours and provide you with approximately 40km of range per hour of charge.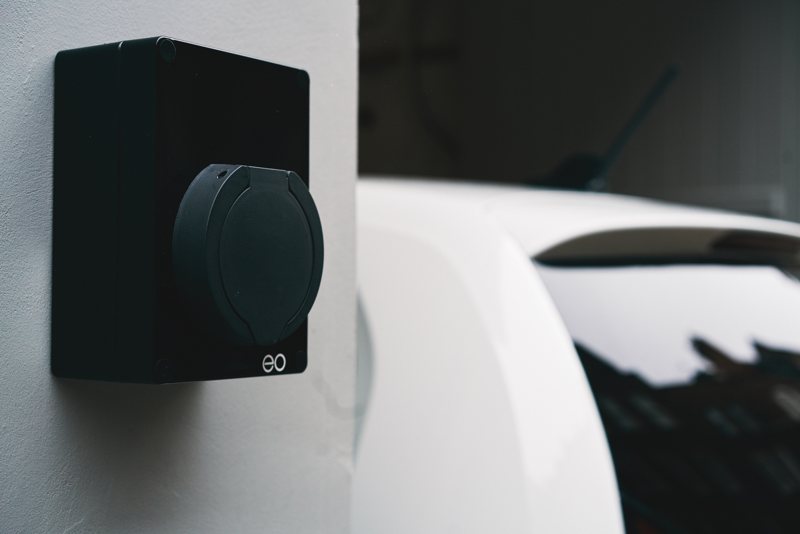 For people who have a Tesla and are after a bit more speed, the EO Universal is the perfect Tesla home charger. The EO Universal offers a whopping 22kW of power that can provide 120km of range per hour of charge.
Installing a home EV charger
When considering what EV charging station is right for your home, it's always worth thinking about your needs now and into the future as this could save you a lot of money down the track. Installation is necessary through a licensed electrician and can be a very simple process taking around an hour for $800 if very little upgrades are required, or an increase in cost (+$1000) if you don't have flexibility with EV charger location and require upgrades to circuits and breakers.
Here at EVSE, we made the home installation process simple. Once you have chosen your preferred charging station for your home, you can get in touch with the team here at EVSE. Most home installs are very simple and because of this we now offer fixed price home install. Upon purchase of the installation service, you will be prompted to submit a couple of pictures of the main switchboard, the preferred location of the charger and well as the approximate distance between the spots. We will work closely with our installation partners to determine the scope of work required based on the photos provided. Once confirmed, our installation partners will get in touch with you to organize the most suitable time to perform the installation. That's it!
The home charger is the best solution for an EV owner given the increased charging speeds, enhanced safety features, and the connectivity to the vehicle and even to your smart home or solar PV system.