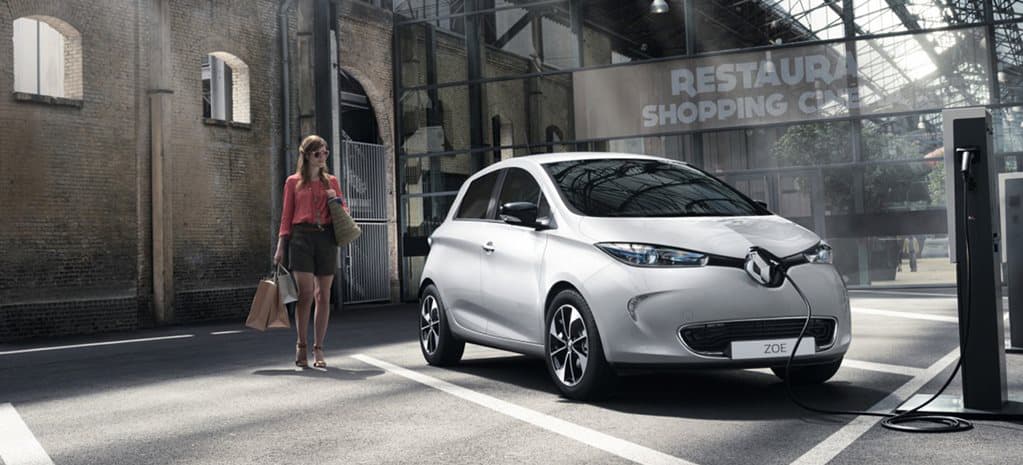 Charging cost calculation is a key part of the research that we need to do before buying an electric car.
In this cost calculation, variables are;
the battery size of the car,
the unit price of the electricity we use in our house if we charge our car at home,
the unit prices of the electricity of commercial charging stations
How often the vehicle is driven
Where you charge your vehicle
Battery size is quite variable depending on the brand as well as the model of the EV. All details about EVs in the Australian market can be found in our electric car guide section
Electricity prices can vary from state to state, and even within different parts of the same state. In other words, the average price of electricity per kWh in Victoria won't be the same as in New South Wales. Below we've listed the typical electricity usage rates across QLD, VIC, SA, and NSW. This was done by calculating the average usage rates of flagship market offer contracts from six leading electricity retailers – AGL, Origin Energy, EnergyAustralia, Red Energy, Click Energy, and Alinta Energy. Prices are shown in cents per kWh.

Source: Canstarblue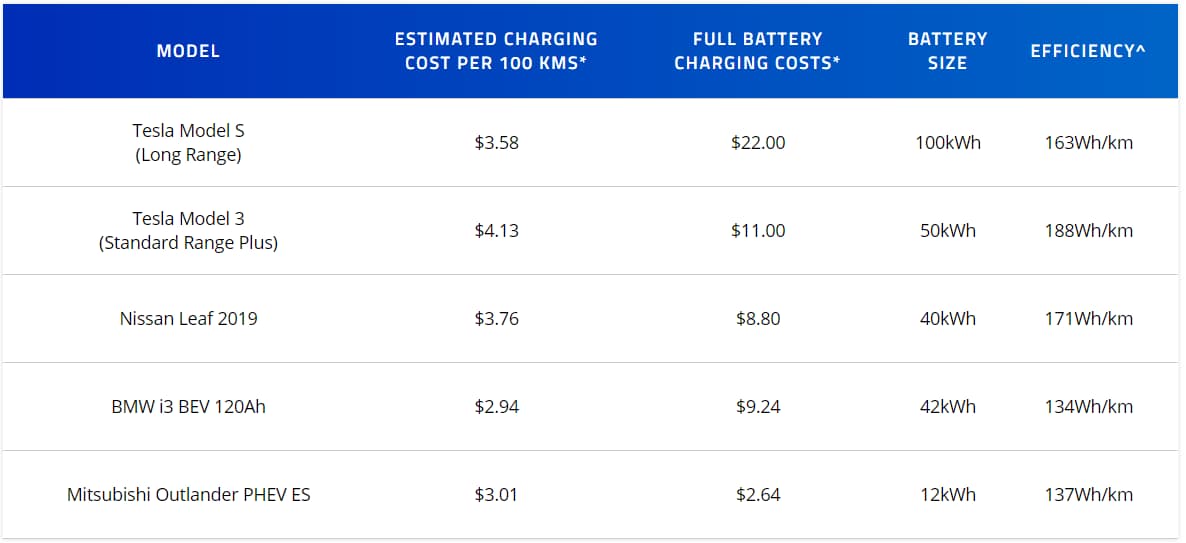 Source: greenvehicleguide.gov.au
*Charging costs based on an assumed rate of $0.22 per kWh.
The table above highlights the approximate charging costs of 5 popular EV models. The Tesla Model S has an effective battery that can allow users to enjoy long-range drives. Allowing a full battery of charge to last up to two weeks* (assuming the average daily drive was 36km). The Tesla Model 3 and Nissan Leaf are arguably the most popular EVs in Australia but slightly less efficient with electricity consumption. PHEVs such as the Mitsubishi Outlander are Plug-in Hybrid EVs. This means that PHEVs still need petrol. In stating this its fuel efficiency is very impressive, as it stands at 1.9L/100km when used with electricity. Highlighting that the PHEV is superior in fuel efficiency to average fossil fuel cars.
The electric vehicle council believe an EV cost 1/3rd the price of a petrol vehicle as shown below

Your charging location is a critical factor in reducing your EV costs. As the Australian market has a plethora of public charging stations available. These stations vary from free charging to charging you a fixed rate. Whilst these free public charging stations are great for a short-term fix, the average EV driver should look for the long-term solution.
To truly get a grasp for charging costs, commercial and home charging options must be explored. As technology and government incentives are rapidly improving. Giving individuals and companies the tools to reduce their charging fees. More and more workforces are installing private charging stations at their workplace. As business owners can effectively link up their EV charging stations to their solar systems and increase their green rating and earn further benefits.
For the individual driver, a free workplace charging station would significantly decrease the overall cost. As it would be the equivalent of getting a full tank of petrol every time you came into work, for FREE. With business owners getting the economic benefits associated with charging stations. Paid charging stations are more commonly seen in the workplace environment. What the charging prices vary, as the owners can set their own charging price.
A residential home charger is mandatory for EV owners. As it gives the owner the luxury of charging their vehicle overnight. Allowing an EV owner to have an independent source of charging. As public charging spaces can be taken. A residential charging station is usually priced around $1000-1500 excluding installation. The homeowner would need to have an electrician install it for a fee which is roughly under $1,000.  A lot of EVs come with a portable charger when purchasing the vehicle. However, most electric car portable chargers are known as granny chargers for their low speed.
One of the benefits of using an electric vehicle is avoiding a petrol station. We all dread that horrid moment, when a car's petrol light ignites, indicating that we must go to a petrol station. Where we must wait for petrol to be fuelled, and then go to the checkout and pay the bill. With a home or work charger installed, you will not have this issue. As is just means that you will need to return home or remember to charge at work.
In summary, the costs of charging an electric car are significantly cheaper. As the electric Kwh rates are significantly cheaper than the petrol rates. Whilst certain states, vehicles, and professions can incentivise this switch. The most important thing when looking to reduce costs is making sure you have a plan in place. A plan will allow you to enjoy the EV lifestyle whilst minimising your expenses.