Description
Tesla Type 2- Type 2 22kW EV Cable & Tesla Gen2 Mobile Connector Adaptor 32Amp 7kW 5-Pin Tail. 
Type 2 EV Cable : Compatible with all vehicles with a Type 2 plug and every Tesla Model.
Tesla Mobile Connector: Compatible with Tesla Model 3, Model Y, Model S and Model X who have the Gen 2 Portable Charger. Every Tesla in Australia manufactured from December 3rd 2018.
Type 2 EV Cable 
Three Phase Light Weight Cable
Compatible with all charging networks that use a universal Type 2 port.
2 Year Warranty
Premium lightweight cable
Type 2 plug at the vehicle, Type 2 at the charging station
The Mennekes cable is suitable for Type 2 vehicle inlets and connects charging stations with Type 2 Infrastructure Socket Outlets
5m length
TUV certified cable and connectors meeting Australian and European standards
Tesla Mobile Connector:
This portable tail is designed for the Tesla Gen 2 portable charger that comes standard with all new Tesla vehicles in Australia. This tail allows you to maximise the speed of your portable Tesla charger to 32Amp Single phase (45km/hour). Your portable Gen 2 Tesla Charger already comes with a 10A and 15 A tails which are limited to 8A/12A respectively. This Tail completes the range and allows you to take advantage of how powered single and three phase outlets across Australia. This Gen 2 Tail replaces the Tesla UMC Adapter – 1st Gen UMC.
32A 5 pin (3-phase outlet)
This plug allows your Connector Adapter to connect directly to a 3phase 32A 5 pin socket. Please note the charger is only able to draw from 1-phase however the 3-phase outlets are the most prevalent in showgrounds, industrial and commercial sites. This will provide your Tesla Model 3 a charging current of 32Amp or 7.2kW (45km/hour)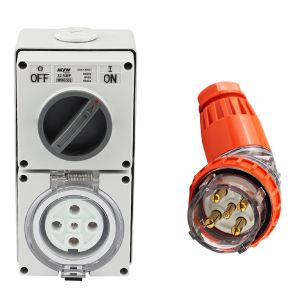 Buy individually & learn more.