Case Study: Transport For NSW Electric Vehicle Charging – Waterloo Road, Macquarie Park
Building Management Systems & Open integration Platform integration.
Summary
– EVSE has partnered with John Holland and Transport for NSW to create an electric charging system that integrates into the buildings Open Integration Platform (OIP).
– The Innovative engineering team at Meld solutions partnered with EVSE to manage 19 EO Genius chargers on a 400amp distribution board actively based on the consumption of the entire development
– The EO Genius systems allows Transport for NSW and other building residents to manage their load, monitor data taken from the charging stations as well as the option to monetize their charging sessions.
EVSE was invited to put together one of the most advanced electric vehicles charging installations to date in the Country, to integrate our intelligent EV solution into the OIP in Macquarie Park, Sydney NSW, Australia.
The new commercial office development at 45-61 Waterloo Road, Macquarie Park, built by John Holland Group, has over 100,000 sqm of office space spread across six buildings. Importantly, the building aimed to achieve a maximum Green Star rating which meant that 5% of all car park spaces required the installation of electric vehicle charging stations.
Meld strategies is leading provider of Smart Building Consultancy. Working with property developers and design professionals to create smart buildings. FIP electrical engaged EVSE Australia for the EV Charging systems to satisfy the scope delivered by Meld on a competitive tender.
Furthermore, the commitment of the NSW Government and Transport NSW to electrify their fleet, gave the developers added motivation to provide integrated sustainable energy solutions. Having EV charging in your new development is no longer just a nice way to market your building but has now become a requirement to service the fast-growing number of electric vehicles.
The electricity consumption of the EV Chargers is monitored every second by the EO Hub to provide the cutting-edge Active Load Management (ALM) feature which enables EVSE Australia to handle the most challenging situations. This means that the EV charge rate is dependent on the buildings electricity consumption in real time, rather than relying on a static parameter. When the building is using more electricity the charging rate goes decreases and conversely when consumption decreases, the EV charging system has an increase bank of electricity to use. ALM technology allows developers to utilise electrical infrastructure better which allows for more EV chargers to be installed without overloading the infrastructure or requiring expensive new substations.
EVSE Australia has also integration our EO Charging System into the Tridium Building Management System (BMS) via a two-way API connection allowing data from the chargers to be sent to the BMS and the BMS sending commands back to the chargers. EVSE sees this as the crucial next step in our ability to vertically and horizontally integrate with multiple technology providers. Allowing for our clients to have an efficient and reliable network of charging stations via OCPP and API integrations.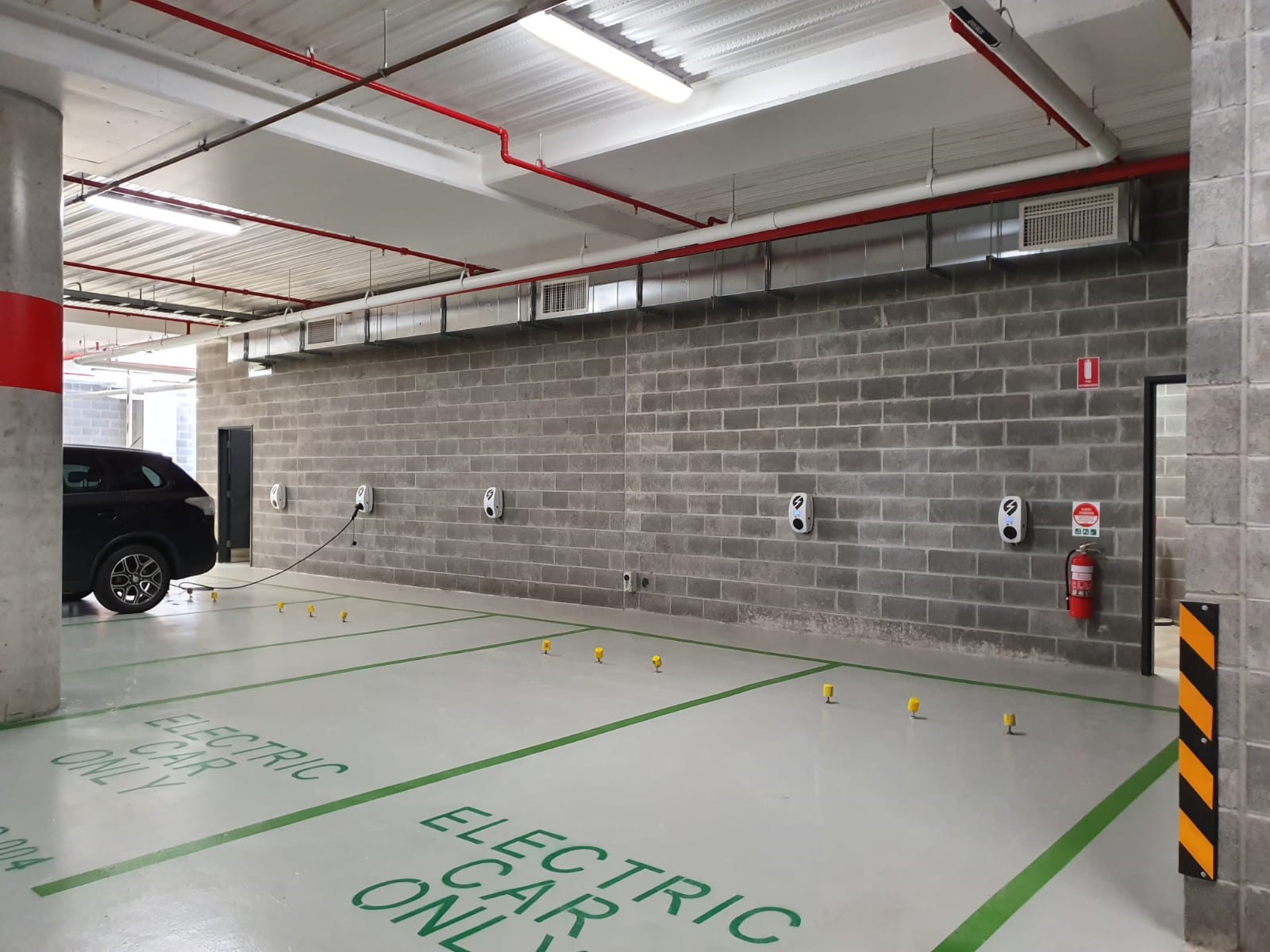 Managing the load
When in use, one 22kW Three Phase EV Charger draws the equivalent electricity of six average household air conditioners units, so with Nineteen 22kW Three Phase EO Genius charging stations required, an effective solution was needed to manage the load. The last thing a business wants is for a blackout to occur when people begin to plug in their electric vehicles due to a poorly managed electric charger systems. This is where our electrical engineering team and the VAE group came into play.
Our Electrical Engineers and the VAE team established that an Open Integration Platform (OIP) was required. This is an automated control system that is installed that monitors and controls electrical and mechanical equipment inside of a building. The EO Genius has a complete two way API which allows building management software access and control over the system.
Furthermore the EO Genius futureproof design has the ability to facilitate expansion for Transport NSW fleet as it electrifies over the coming years.
This system effectively uses active load management (ALM) to ensure that the distribution board does not exceed its allocated 400amps. This allowed the developers and owners of the property to rest easy knowing that their electrical equipment has the management it deserves, with no nasty surprises. The Mitsubishi outlander charging stations and Hyundai charging stations are universal and allow the NSW government to upgrade their fleet without effecting the infrastructure. 

The Technology
The EO Genius is our intelligent EV charging system which incorporates a back-end cloud management system within the scalable futureproof charging ecosystem. This gives the user the ability to manage their electrical load using static, scheduled and active load management (ALM). These systems connect to the EO Hub which transports data to the EO Cloud. It is on this online platform that the users can monitor the usage of their electric car charging stations in real time and generate usage reports necessary to justify future investment. On the EO Cloud, the user can opt to bill the end user for their electricity consumed, have the system running for free or a combination of both. As for buildings like 45-61 Waterloo Road, it is common for the building owner to pay for their tenants charging, but to monetize their system for non-registered users. This is completed in one simple click via the EO Cloud.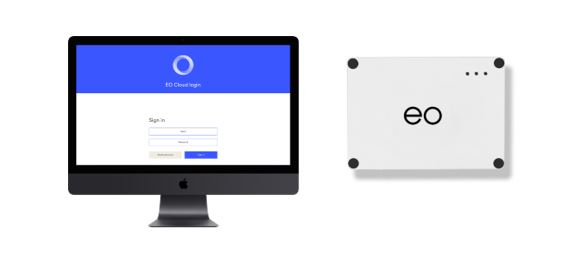 The chargers at Macquarie Park have an output of three phase 22kW, meaning that they can charge an electric vehicle at up to 120km per hour. Whilst most cars have an on-board charging capacity of 7kW or 11kW, a 22kW system will ensure that a workspace is prepared for the future. These chargers are also universal, which allows them to charge any car on the Australian market, through drivers bringing their own charging cable and inserting it into the type 2 Mennekes female plug. The EO Genius units have an IP of 66/54 (enclosure/socket). Meaning that the enclosure itself is protected from dust ingress and from high pressure water jets. Allowing the owners of the charger to be confident in the longevity of these chargers.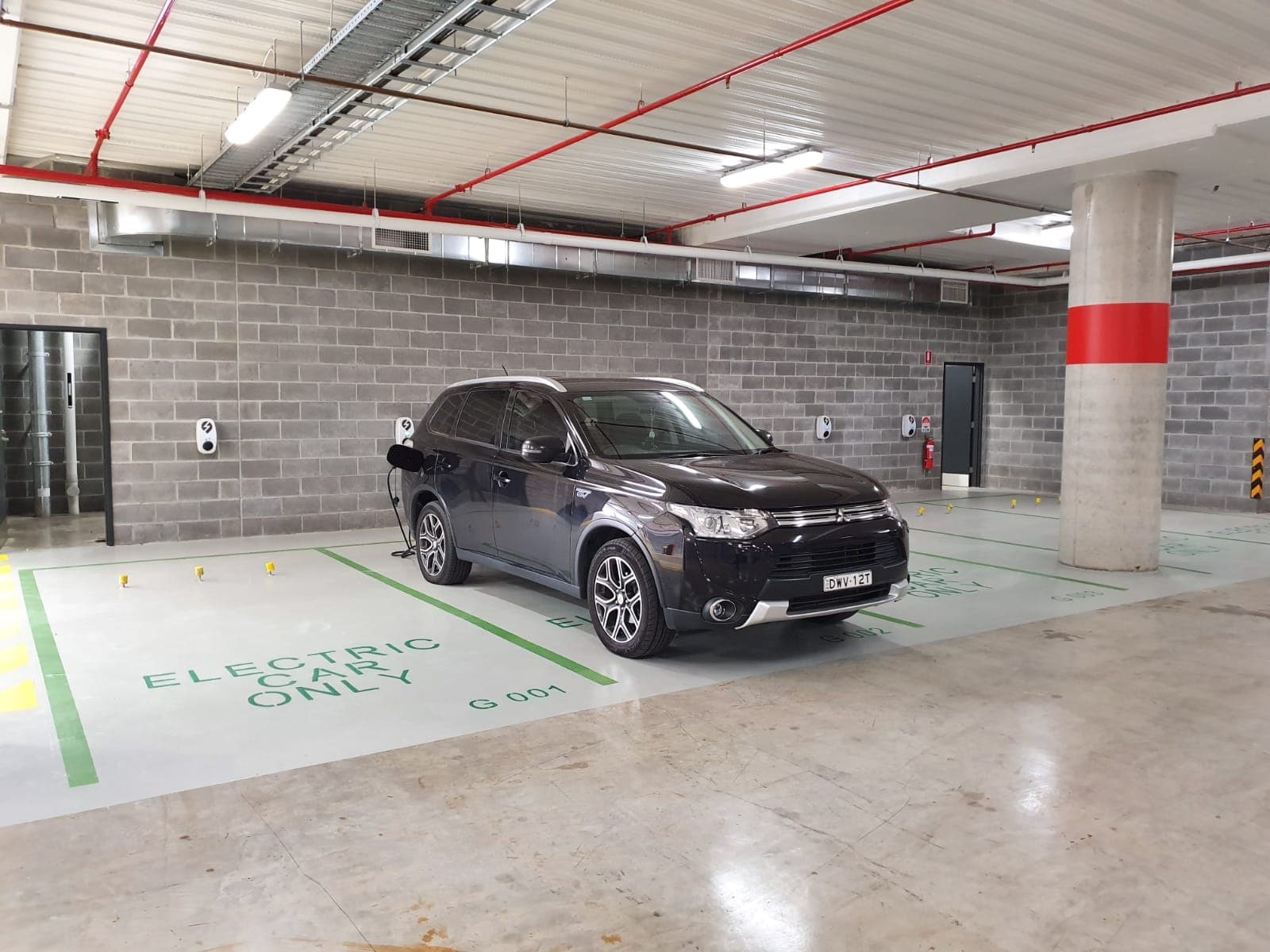 Parking Spots
The parking spots have been floor stencilled with "ELECTRIC CAR ONLY" giving a clear notice to internal combustion engine (ICE) drivers that they there is in fact a charging station at the car spot which was been dedicated for EV's only. Signs such as this, are highly recommended, as ICE drivers are unaware of what an electric charging station looks like. It is quite common for people to park in these spots without knowing that there is a station there. However, with signs such as this, the driver clearly knows if they are parking in an electric vehicle charging bay or not. This term is often known in the EV community as getting "ICE'D".
To find out more about EVSE Australia's Smart EV Charging solutions, contact our team on 1300 406 210 or visit www.evse.com.au.