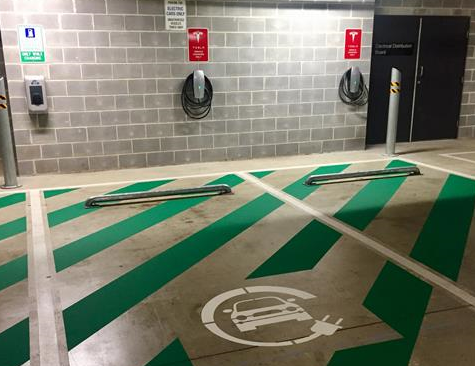 Shopping Centre EV Chargers
More news of Shopping Centre's & Business's across Australia installing EV Charging stations.
This is an exciting development, which highlights the progression of the EV market across Australia. As we have seen right across the world, Charging station infrastructure (EVSE) often precedes the uptake of EV's as shopping centers, businesses and municipalities identify the growing trend and look to capitalize on the opportunity to provide more add on services and promote their green credentials.
These new projects in addition to installation of solar panels, highlight the ongoing nature of innovations being offered by shopping centre operators such as Westfield's, Stocklands and GPT Group who are looking to increase a patrons "dwell" time and encourage more regular repeat visits, as they create evolve the shopping center into more of a village centre for the community.
In addition to this, the move to install EV Charging stations at shopping centers also reflects the changing attitude of consumers who are prioritizing sustainability and green credentialed properties as society shifts towards clean energy.
For most EV drivers a shopping center EV charging station presents one of the most logical places, outside of a home EV charging station or workplace EV charging station, to charge their EV.
EVSE Australia recently supplied a universal EV charging station for Wollongong central shopping center to allow all EV drivers the chance to charge their EV at the shopping center free of charge.
We have also seen announcements from Stockland and Westfields who have each installed upwards of 30 EV charging stations at shopping centers right across Australia which are free to use for all EV drivers.
At present, there are 8000 EVs in operation in Australia, with sales steadily increasing. With the accelerated release of mass-market EV's over the coming few years (Hyundai Ioniq, Tesla Model 3, Nissan Leaf) it is expected that there will be over 35,000 EV's on Australian roads by 2024.
It won't be long until all Shopping centre's and businesses have EV Chargers across several car parks to provide a much-needed service to the fast-growing EV community.
5 Reasons why EV Chargers are perfect for shopping centers
          1) People often spend upwards of an hour at a shopping center.
          2) Attract EV drivers to return to the shopping center.
          3) Attract EV drivers to spend even longer than they otherwise would at the shopping center.
          4) Attract EV drivers on road trips or passing through a suburb who might otherwise not go to the shopping center to stop and charge.
          5) Promote Green Credentials of the business and their Corporate Social Responsibility through increased media attention and publicity.
If your Shopping center or business would like to learn more about a turn-key universal EV charging station, get in touch with the expert team at EVSE Australia who can provide obligation free advice and installation quotes.