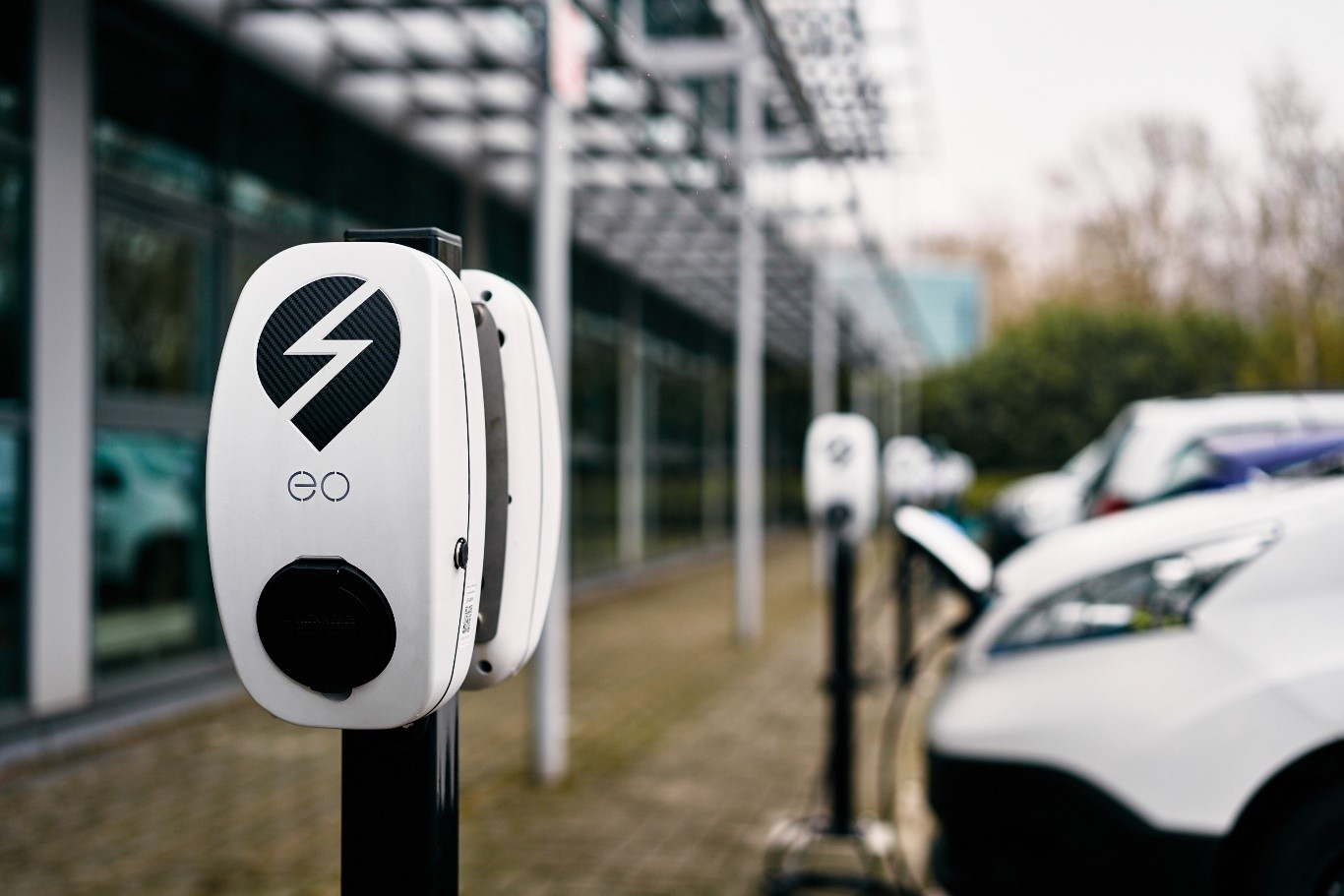 9 steps to make your Development EV (Electric Vehicle) Ready
"The installation of an EV charging station is made three to four times less expensive when the infrastructure is installed during the initial construction phase as opposed to retrofitting existing buildings to accommodate the new electrical equipment."- ICC 2018. EV Ready describes the steps to making a development ready for EV charging. 
A study conducted by CARB (California Air resources Board) concluded that the average retrofit costs of installing infrastructure to support AC Charging was $7,000USD per parking space. This large installation costs can be avoided through planning to make your building EV ready. In order to do so you will need to:
1. Decide how many chargers you would like
2. Get a switchboard that will support your chargers
3. Have the appropriate cable run
4. Picking your charger
5. Understand your software options
6. Protect your charger
7. Stencils and signs
8. Online awareness of the charger
9. Enjoy the charger!
1. Decide how many chargers you would like,
A great start is to talk to your future clients or customers to gauge for interest for EVs. If this is not able to be done, we would recommend having one EV charging station for every 5 regular parking spots.
2. Get a switchboard that will support your chargers
In order to power several charging stations for the future, it is vital to have a distribution board that can maintain the charger's capacity. Older residential apartment buildings are equipped with a low 63 amp single phase switchboard, this was able to meet all the needs for a standard apartment building in the past, but in the present times it will not offer you or your client a scalable solution. In order to prepare for the EV trend as seen in Norway and Europe, larger switchboards will be needed. In an Ideal world, EVSE would want a 160-250amp switchboard to use. As to use a 7.2 kW charger to its maximum capacity it will need 32amps of power, with 8amps of power being the minimum recommended with load management. Please refer to the table below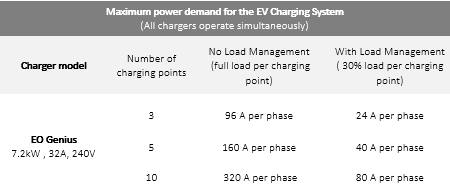 What is Load Management?
Load management is required where the combined power required to charge all cars plugged in exceed the building's electrical supply infrastructure for charging EVs, whether it be at a DB, sub-board or MSB level. Whilst this functionality is unlikely to be required in the near term, it will be crucial in ensuring that as close to 100% of lot owners as possible can charge their EVs in the future. For more information see our Load management article.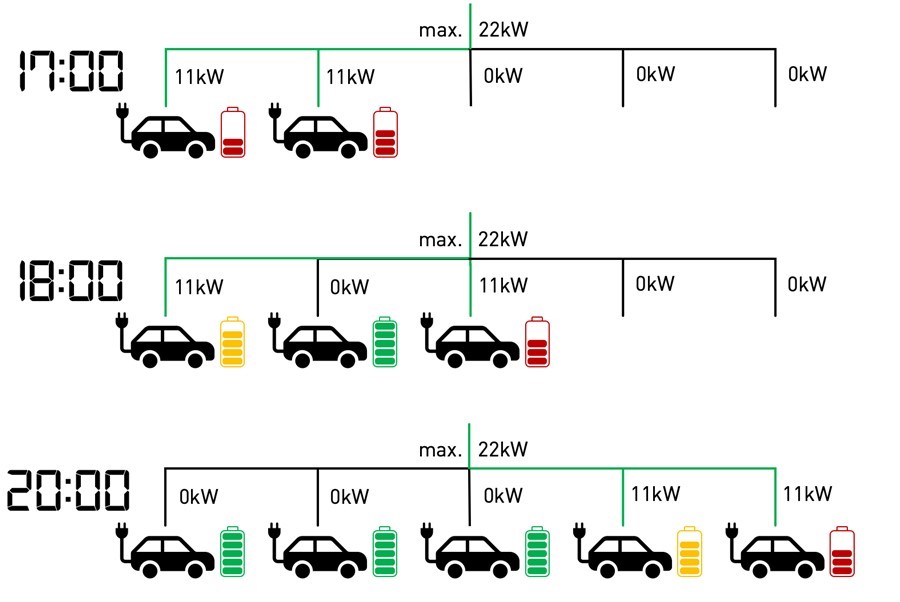 3. Design a low-cost cable run
One of the largest expenses when installing EV chargers is the cable run of the charging station. Things to consider when designing the cable run is, how can I minimise the distance from the chargers to the distribution board, what cable trays and conduits can I install, can I avoid underground cable trenching. Please see the differences between a "CAPABLE" and "EV READY" space.
EV CAPABLE SPACE: Electrical panel capacity and space to support a minimum 40-ampere, 208/240-volt branch circuit for each EV parking space, and the installation of raceways, both underground and surface mounted, to support the EVSE.
EV READY SPACE: A designated parking space which is provided with one 40-ampere, 208/240-volt dedicated branch circuit for EVSE. The circuit shall terminate in a suitable termination point such as a receptacle, junction box, or an EVSE, and be located in close proximity to the proposed location of the EV parking spaces.
4.Picking your charger
It is important to know what the trends are for EV charging before selecting a charging station, please refer to the following facts.
TOP UP – Charging: It is important to note EV drivers simply top up their vehicles rather than refilling their battery's to the maximum capacity. Ideally, a home or workplace charger would want to fill the drivers car to 100% after an 8 hour period. The 7.2kW AC charger will do this for the majority of vehicles on the Australian Market.
Charging Speeds: Charging speeds go from 10amps, 15amps, 16amps, 32amps (single phase) and 32amps (three phase). Ideally you would want to have at least a 32amp single phase charger that can go down to 15/16amps using load management. In an Ideal world, a three-phase charger would be the best solution, as it would be able to charge Teslas in under 6 hours and can be adjusted to lower speeds if needed using load management.
Charging Inlets: There is two types of car inlets, they are known as Type 1 (J1772) and Type 2 (Mennekes) inlets. The older vehicles use the type 1 outlet, where the "next generation" of EVs will use Type 2 inlets. In order to accommodate for both chargers, we recommend using a universal charging station, that allows EV drivers to bring their own cable that fits in their vehicle, this means that your company does not have to worry about the charging cables depreciation.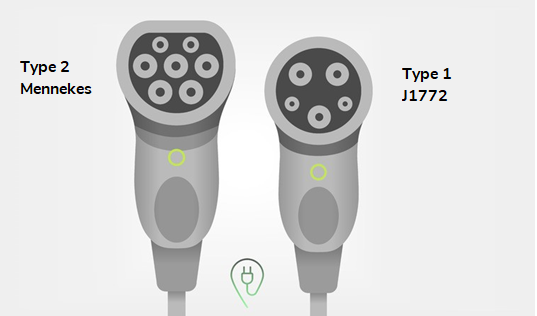 5. Understanding your software options
Chargers with a smart system are used when companies need to manage, monitor and monetise their charging stations. Software like the EO CLOUD will allow the user to monitor every charging session that is deployed on your charger. This is mandatory for an apartment to be EV ready, as apartments need individual billing. There is also a large amount of billing options available on the charger, these include: a promotional parking rate, billing via kWh and free charging for a VIP. The EO Cloud is our OCPP 1.6 compatible charging management software. 
6. Protecting your charger
Chargers are valuable pieces of technology that need to be protected. This can be done by installing the charger at a height where a car can't bump into it, as well as inserting bollards in front of a standing charger. A charging cable holder is recommended to ensure the safety of the cable.
7. Stencils and Signs
It is vital that people know your charger exists, to do so in person, we recommend using stencils, signage, and painting the space green, to indicate to the all drivers that the space is for EV drivers ONLY.
8. Online presence
Putting signs and stencil will not be enough to let the public know that your charger exists, to do so an online presence will be needed. This means posting on your website and social media pages, emailing your clients and letting them know that your development is EV ready. For public charging it is mandatory that your charger is placed onto google maps and Plugshare EVSE is happy to arrange this on our customers behalf. EO cloud also means your chargers are available on the APP.
9. Enjoying the charger!
After installing the charger and seeing the uptake of EVs in your development, you can sit back and smile, as the charger brings business to your development and ultimately incentivises your clients to choose an environmentally sustainable practice.
"New residential buildings are constructed to last for decades, and so it is critical that EV charging infrastructure is incorporated at the pre-construction stage to ensure that new buildings can accommodate the charging needs of future EV-owners," (IECC,2018)
Thus highlighting why these nine steps need to be taken in order to make your development EV ready.