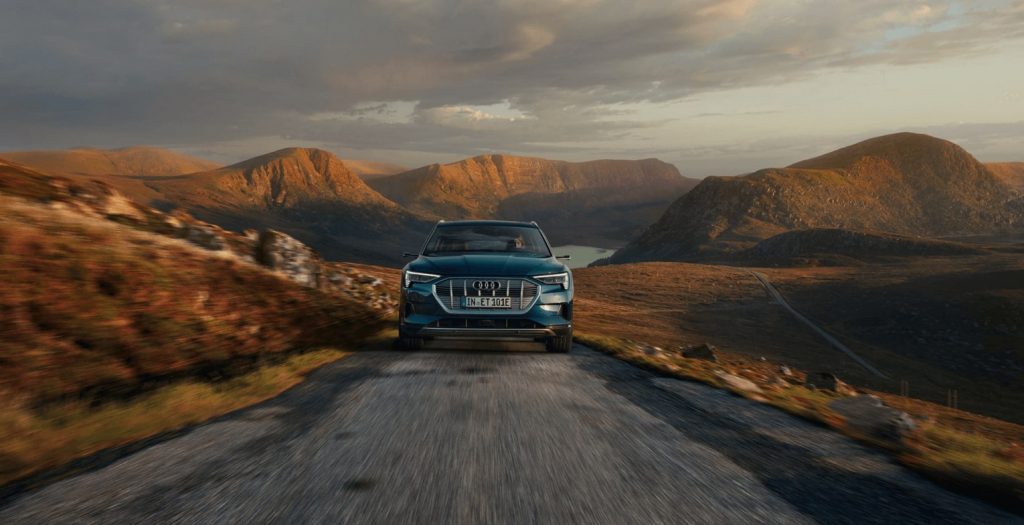 By the first look at Audi E-Tron, it looks like a very ordinary Audi. This is the electric car that does not try to seek to blur boundaries or act radical. This is the electric vehicle that simply persuades those ordinary SUV buyers to make the jump to swap to embrace the electric vehicle era. Audi refers to this as 'concept clarity'.
Brands like Tesla and Jaguar are spending every effort to create their distinct look. The Tesla Model X deliberately illustrates a characteristic look and feeling. The Jaguar I-Pace combines the features from SUV, hatch, crossover and coupe. Both of these brands pitched that way to make an impact and attract buyers from all over. However, Audi, defending huge sales volumes, has made the car that people will recognize and understand.
Audi E-Tron provides an optimal solution for those who are interested to buy an electric vehicle but don't want to be the focus in the crowd. There are no silly doors, no weird body style, no cabin ergonomics, and no strange design flair. This is just a very ordinary SUV, which the majority of Australian buyers are interested to buy.
In terms of the size, Audi E-Tron sits between the Q7 and Q5. The E-Tron is 4901mm long, 1935mm wide and has a luggage capacity of 660L. The Q5 is 4663mm long, 1893mm wide and has a luggage capacity of 550L. The Q7 is 5063mm long, 1970mm wide and has a luggage capacity of 740L. The under-floor storage in the rear section has enough space to store a small backpack or a laptop bag to keep gear out of sight. If the back seats are fold down, a bicycle can be easily accommodated in Audi E-Tron.
The table below summarizes the important statistics of Audi E-Tron.
Audi E-Tron Sportback 55 Quattro
Engine
Electric
Power and torque
265kW, 561Nm (300kW, 664Nm in boost mode)
0-100km/h acceleration time
5.7 Seconds
Transmission
Single-speed automatic
Drive type
All-wheel drive (primarily rear-wheel drive)
Kerb weight
2480kg
Motor count
2 (one at front, one at rear)
Battery size
95kwh
Driving range
More than 400km
Charging time
150kW fast charger: 45 minutes to 100%
11kW Audi Charging Station: 8.5 hours to 100%
The public charging infrastructure in Australia is expanding at a rapid time, making public charging easier and more flexible for Electric vehicle owners. Audi E-Tron promotes the use of 350kW fast DC chargers. This can allow Audi E-Tron to charge to 80% in just approximately 15 minutes.
For overnight home charging solutions, 11kW three-phase wall-mounted home Audi E-tron charger is recommended to provide the optimal and cost-effective charging speed. For this charging option, you can charge your E-Tron in 8.5 hours. Audi has made a charging port on each side of the car to allow easy and flexible charging.
The interiors in Audi E-Tron feel very Audi and high-tech. There are five screens up front. Two screens are mounted in the center console. The top screen displays the information from Apple CarPlay / Android Auto, while the bottom screen controls the vehicle functions such as seat heating and ventilation and air conditioning. The Virtual Cockpit comes as standard and it has the integrated satellite navigation and further customization based on personal preference. Instead of the traditional shift lever, Audi E-Tron utilizes a big hand-operated switch, pushing forward for reverse and toggling back for drive. Park is another separate switch.
It's worth noting that the traditional external mirrors are replaced with two high-resolution screens inside the doors that project the image. This may make you feel strange, but once you get used to it, you will like this futuristic design.
Audi E-Tron comes with adaptive air suspension that is able to adjust through nearly 80mm to cope with tough road situations. Although ride quality is usually the weak point for electric vehicle, the E-Tron has impressive performance. For example, the steering makes a good balance between city drive and highway drive.
The Audi E-Tron provides a conservative approach to make the transition from the conventional fuel-fed cars to all-electric vehicles. For more information on the Audi E-Tron charging options, visit evse.com.au