Introducing our best and most convenient portable charger yet! This is a premium smart portable Type 2 charger 8 Amp EV Charging Station, a game changer for residential electric vehicle owners like you.
Embrace the future of sustainable transport with this remarkable charger that fits in a standard Australian wall socket and can be controlled from the palm of your hand!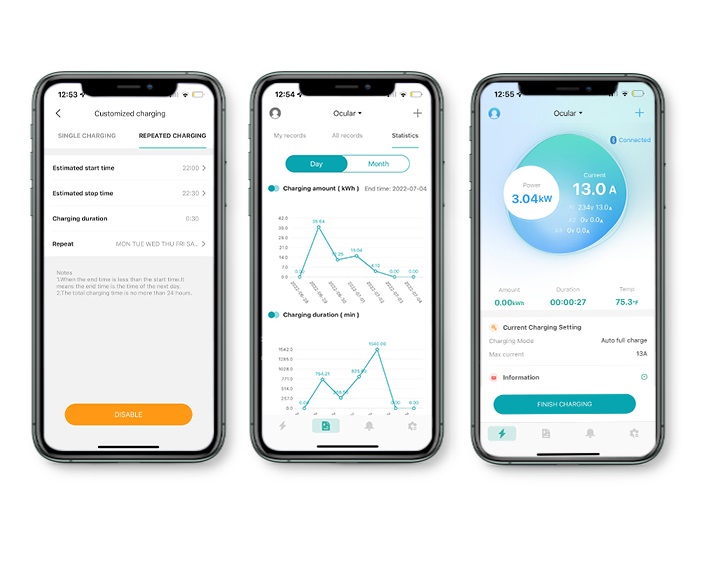 Bluetooth Connectivity
Harness the power of your smartphone and take charge of your charging experience. With Bluetooth connectivity, you can effortlessly connect to the EVSE Master app and unlock a world of possibilities. Monitor your charging session through bluetooth for reliability and peace of mind
Save Money by creating your Charging Schedule
With our charger's custom charging schedule feature, you can tap into cheaper off-peak energy or align your charging sessions with your solar generation. This means you'll not only enjoy a greener lifestyle but also keep more money in your pocket.
Charging Reports
Get real-time charging reports that provide you with valuable insights into your charging sessions. Know how much energy you've transferred, track your progress, and make informed decisions about your EV usage right in the app.
Live Display
Get full visibility into the charging session through on-screen information.  Either through the app or live on screen, you will always know exactly what's happening with your charger
EVSE Master APP – Download Here
Portable Charger Specifications
Light Weight 2.1kg
6 metre total length. (1.5m from wall to unit + 4.5m from control box to EV)
RCD Type A for maximum electrical safety. This is a requirement for EV charging not present in many generic portables.
LED display temperature control to prevent overheating
IP66 Waterproof with ABS materials for strength
LED screen indicating charging speed, time and energy transferred
Meets international & Australian standards
Auto charge recovery
Overcurrent protection
Warranty: 2 Year;
Operating Temperature:-25℃ to +55℃
Don't miss out on this opportunity to revolutionize your EV charging experience. Order your cutting-edge premium Smart portable Type 2 charger 8 Amp EV Charging Station with Australian Plug now and embrace the future of mobility!
See our entire range of electric car portable charging stations here