Whether it is a council with 5 cars or a company with 100 vans, is it feasible to convert them all to Electric Vehicles (EVs)?
The automotive industry is going through the biggest evolution in 100 years. In the past 5 years, car manufacturers have been introducing more and more electric vehicles; all working towards a global initiative to eliminate emission.
With car manufactures' objective set to electrify their vehicles in coming years, not only are there more options for consumers, but they are also becoming more affordable.  For fleets, this means converting to electric vehicles will be a more cost effective and feasible solution.
The Climate Group has launched a movement called EV100, their objective is to bring together forward-looking companies and organisations who are committed to accelerate the transition to electric vehicles and making electric transport the new normal in 2030. Major organisations such as IKEA, Google, State of NSW and TATA motors are also part of this campaign.
Fleets converting to electric vehicles is not a new initiative, it has been done all over the world. Take Gnewt for example. Gnewt is London's largest fully electric delivery fleet with over 100 EVs and over 40 fleet electric car chargers. Smart chargers allow fleet operators to manage power usage, monitor charging status and configure necessary parameters to charge up their fleet of vehicles in the most efficient and effective manner.

One of the major concerns about EV adoption in fleets is the ability to charge the vehicles. While electrical demands will be high and upgrading the electrical infrastructure could be costly, in most cases, implementing a load management system is enough to supply sufficient power to charge multiple vehicles at any one time. An Active Load Management (ALM) systems allows analysis of power usage throughout the whole building in real time and as a result distributing power to the chargers in the most optimal way possible.
Another concern with most fleet EV charger availability and thus the range. With 80-90% of charging done at home, future projection of fleet charging solution will be incorporating home charging to the fleet's cloud system. This will allow drivers to charge at home and get reimbursed for the power used on the fleet EV.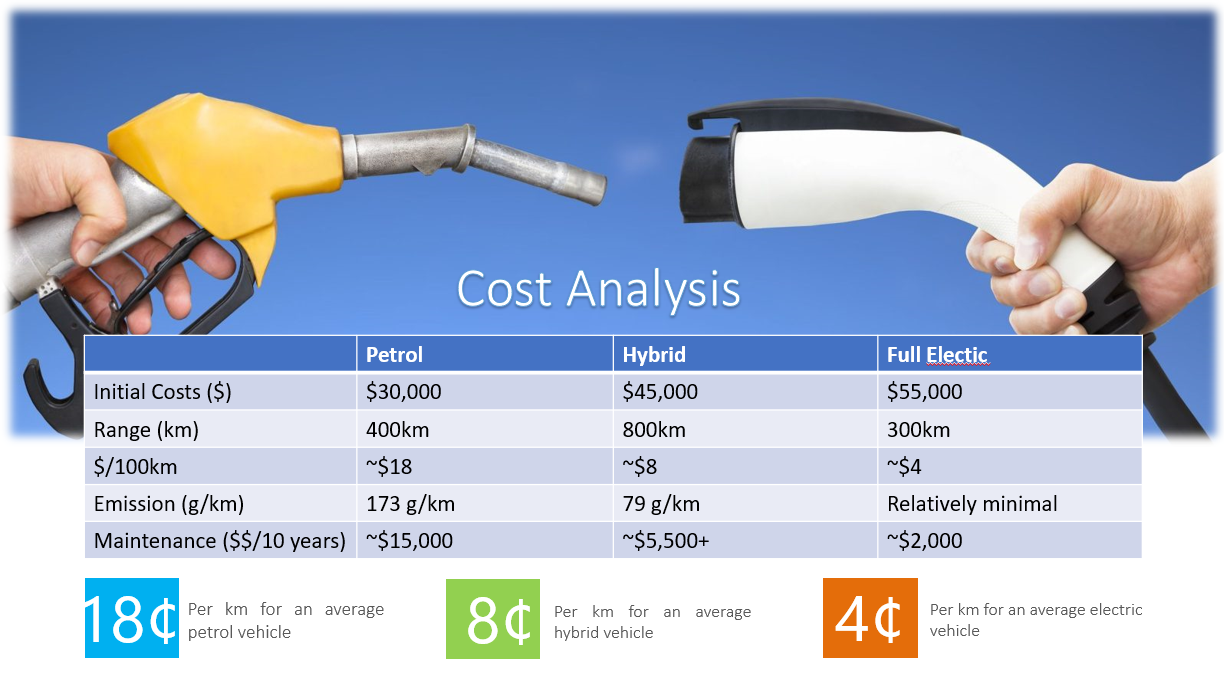 Refuelling an EV can cost as low as 4 cents per kilometer as opposed to 18 cents in a petrol car. Maintenance costs are also significantly lower as EVs contains fewer moving parts thus less frequent servicing is required.
Due to high utilisation rate  of fleet vehicles, the advantages of electric vehicles are usually magnified compared to privately owner EVs. Over time, fleets with EVs can be more financially beneficial as maintenance cost and refuelling costs are much lower compared to traditional petrol cars.  Furthermore, adoption of EV in fleets will also reduce carbon footprint drastically.
Considering converting your fleet to EVs? Contact our team here at EVSE where we can help you customise and design the best charging solution for your fleet.