The market in Australia for Plug in electric vehicles (PEV's) is growing every month, and with it the need to charge. The ability to be able to charge at a workplace can be an important consideration for those in the market to buy an electric vehicle. Workplace charging is catching on as employers see its value, and employees begin to demand this service. EVE Australia have outlined five reasons why Australian Businesses are investing in electric vehicle charging stations (EVSE) across Sydney, Melbourne, Brisbane, Adelaide, Canberra and Perth.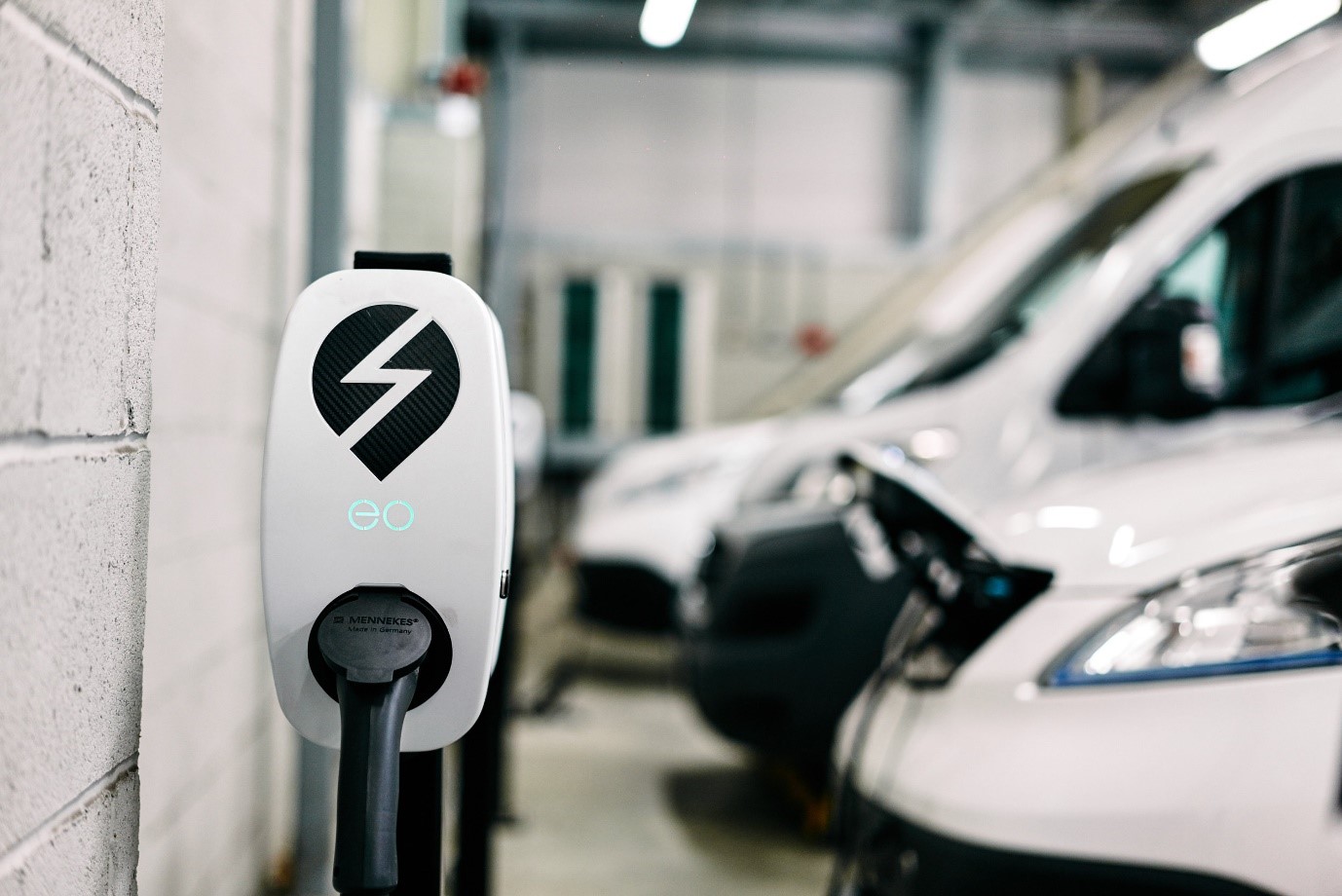 A workplace EO electric car charger Set up allowing for  Level 2 charging via a 22kW type 2 universal car charger
1. Attract and retain: Businesses understand that in order to attract and retain high quality workforce, especially the new generation of environmentally conscious employees, they need to do so by becoming an employer of choice. By offering at work charging, companies can stand out in a competitive market for the best talent.
2. Corporate social responsibility (CSR): commonly referred as "corporate citizenship", CSR initiatives assess and take responsibility for the company's effects on environmental and social wellbeing rather than a focus purely on financial gain. By offering electric car charging your business will break the mold of the corporate's looking to maximise profit at all cost.
3. Green company image: Companies today understand that being green will help to enhance your brand especially with Gen X and Y. With the popularity of social media, companies can build strong relationships within their market and their communities through supporting green initiatives such as installing chargepoints. Through the installation of level 2 electric vehicle-charging stations at your workplace, your parking lot may become your best marketing tool.
4. Better communities: By installing Electric car charging and therefore encouraging the uptake of electric vehicles, organizations are helping to make their local communities healthier places to live. Electric vehicles have decreased carbon emissions which can result in respiratory illness as compared with the harmful byproducts of internal combustion engines.
5. Added perk: More and more people are switching to Plug In Electric Vehicles (PEV) such as Tesla Model S and Tesla Model X, Nissan Leaf, BMW I3, as well as Plug In Hybrid Vehicles (PHEV) such as the Mitsubishi Outlander as the costs of electric vehicles and charging technology rapidly decrease. By offering EVSE at your office, employees save money on fuel costs because electricity is less expensive than petrol, and allow employees who may not have home charging access to charge do so whilst at work.
6.Cost Savings: by installing an electric vehicle charging station at your Australian office, you can then look to incorporate electric vehicles into your existing fleets which will result in significant cost savings. Not only are electric vehicles cheaper to run given the ever increasing cost of fuel, but electric vehicles also require less maintenance with only a dozen or so parts between the motor and the wheels compared to 1000's in traditional internal combustion engines.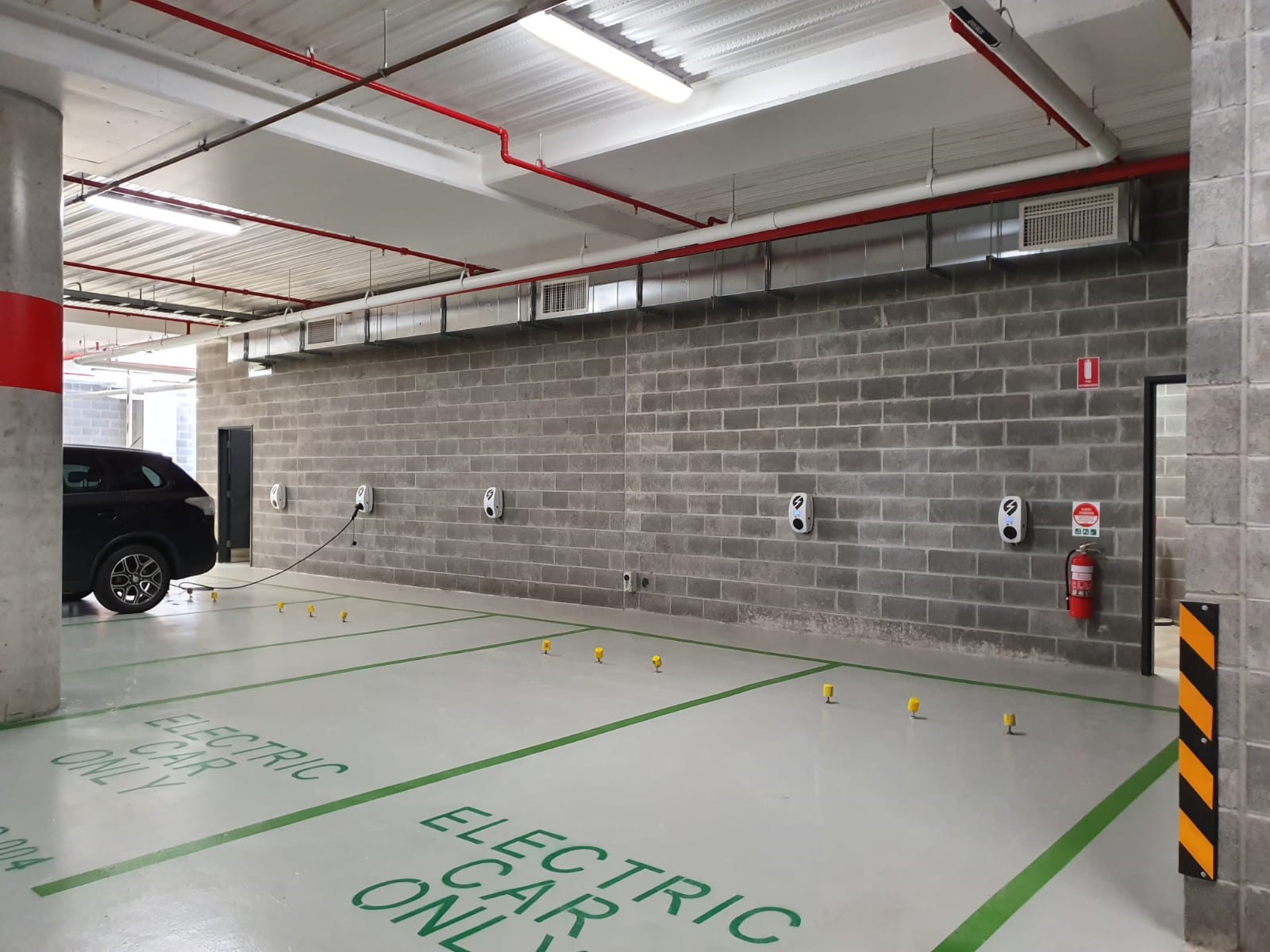 A workplace carpark fitted with EO Genius 22kW  electric car charging sockets and matching carpark stencils
At EVE Australia we have worked with businesses and organizations across the country to identify their needs and provide cost effective and future proof solutions to their EV charging needs. EVE Australia stocks chargers and cables from Europe's leading manufacturers which allows your company to access the latest technology including smart charging, RFID access, networking and fast charge options to maximise it's use by your workforce.