This article summaries the Australian governments projections for the Net Zero plan. This includes looking at the different causes of carbon dioxide emissions, projected growth of renewable energy solutions and the financial projects of the Net Zero Plan.  It is to be noted that these figures are made at a best-case scenario. the prevision plans for an increase in electric car and electric car charging stations across NSW and Sydney 
Breakdown of emissions in Australia
The projections below highlight Australia's journey in reducing it's emissions. These future projections are following the NSW governments 2016 Climate change policy framework with the objective to reach net zero emissions by 2050. This has allowed the government to conserve $50 million worth of power via the Home Energy Action Program which is forecast to reduce emissions by 32,000 tonnes by 2030. The Grant of $75 Million for electricity generation projects will diversify the states energy, hence reducing emissions up to 200,000 tonnes. $35 Million has been dedicated to more energy efficient equipment which will reduce 108,000 tonnes by 2030. These actions have allowed the NSW government to reduce its emissions by 18% from the 2005. It is projected that the emissions will stabilise to 2030 if no further action is taken.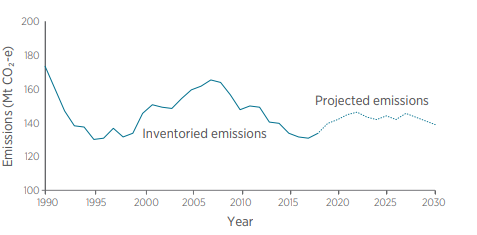 Figure 1.  Projected Emissions from Net Zero Plan
The Table Below highlights the breakdown of NSW's emissions by sector in 2017. It shows that electricity generation and transport is the largest emitter of carbon dioxide. As a result of this, the government has seen these two areas as their largest priorities moving forward in the Net Zero stage one goals.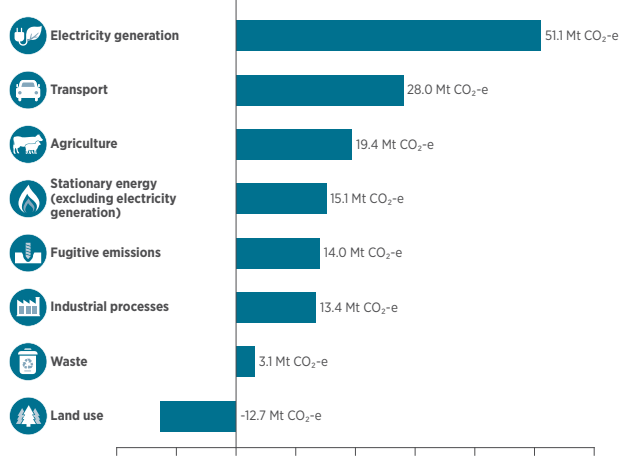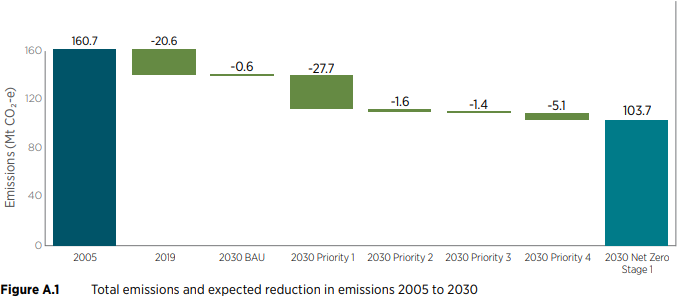 Financial projections for Net Zero strategies
By delivering this plan the NSW government projects that it will create 2400 jobs and $11.6 billion in investment over the next ten years. It is noted, that there will be unexpected developments in technology that will affect these projections. The NSW government notes that state, federal and local governments will play a vital role in seeing that this goal is met. They congratulate businesses, individuals and the community for embracing new renewable practices.  
The government mentions IKEA Tempe as a great case study in saving money through the installation of solar panels. Their rooftop solar project creates over 1300 megawatt hours of electricity to the building and will save the company over $200,000 on their electricity bills each year. 484,000 small business and households have rooftop solar installed, where they save $900 and 3 tonnes of emissions per year. Furthermore companies can utilise solar powered electric car charging to further reduce their CO2 emissions. 
In order to stimulate electricity and energy efficiency the NSW government will create Renewable Energy Zones. These zones will connect investors with communities that look to diversify their energy into renewable power sources. These zones will be in the Central West, New England and in the South West that will replace retiring generators in NSW. When established, these zones can drive up to $23 billion dollars' worth of investment in the private sector and can create 2000 construction jobs each year in regional New South Wales.  
NSW vs the world in electric vehicles.

The NSW Net Zero Plan highlights the significant distance that Australia needs to cover compared with Norway who is the global leader of electric vehicles the human development index and in renewable energy practices. This is important to take into consideration before being frustrated with the NSW government's actions on electric vehicles and electric vehicle charging stations. However, NSW and Australia is still significantly below the global standards for electric vehicles. As the Net Zero plan currently highlights the lack of electric vehicles on NSW roads when compared to the 2.1 million vehicles worldwide. As the OECD (Organisation for Economic Cooperation and Development) highlighted that Australia's electric vehicle sales rate ranked 32 out of 36 countries.
In Australia it is a close battle in EV ownership in total electric vehicles owned between Melbourne and Sydney with Melbourne in the lead. When you look at per person, the ACT and Adelaide lead the country.