Distributed Energy Resources Roadmap WA clean energy plans and EV charging  
Distributed Energy Resources (DER) stands for small scale generation and storage of electricity. This is made possible by the reduction in costs of renewable energy and technology which takes advantage of the aggregation of these resources transforming our electricity system. This presents an amazing opportunity to capture more renewable energy into the main grid.  Energy resources include Solar Panel systems, energy storage, home batteries and electric vehicles which are known as rolling batteries through vehicle to grid technology. The SWIS system represents containing Perth, the WA Wheatbelt, South West & the Kalgoorlie region)
The West Australian government in December 2019 have unveiled their renewable led DER road map. See the report here
The energy industry is undergoing a rapid transformation and this comprehensive report highlights the challenges that Western Australia (WA) will need to overcome and importantly how they plan to respond to maintain a stable and effective power network.  DER is designed to take advantage of the increase in households taking up solar with almost 1 in 3 homes in the South West of the state now connected to solar. Furthermore, over 2000 households add solar per month. Not only do they enjoy lower energy bills but also reduce greenhouse gas emissions. Now the state wants to harness this energy as a collective force.
The problem with the abundance of rooftop solar is the duck curve. This is the effect of causing demand to fall as rooftop solar powers most homes and therefore energy providers increasingly having to ideal their infrastructure. This is leading to the Australian Energy Market Operator (AEMO) having to intervene to maintain the electrical network which potentially can lead to higher costs.
Western Australia's is a plan is the combination of solar, home batteries and electric vehicle charging station to provide the network flexibility and the ability to handle the duck curve challenges.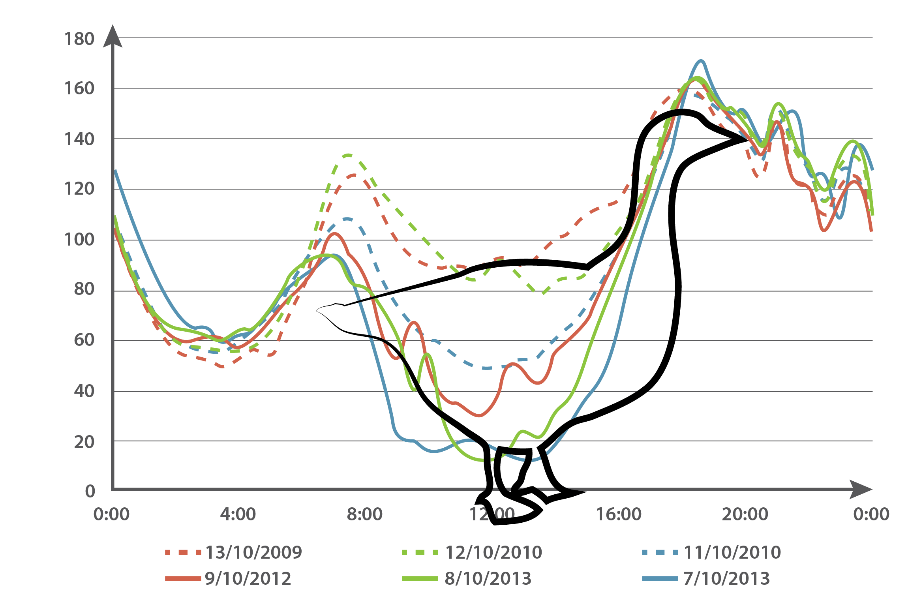 As shown in the image above we can see the average electricity usage across a electricity network such as in Perth Australia. With many homes and business now connected to solar we see a massive decrease in demand during the day which results in as represented with the graph showing lower usage during daylight hours.
Renewable Generation forecasting-  How do we stabilise and mother nature
Solar electricity and wind turbines produce electricity based on local weather which results in unstable production which is an complex equation for network operators. Unlike coal or gas powered turbines we cannot simple control their output and therefore we need to work to accurately predict weather events and also increase the number of renewable generators on the grid to provide further capacity and stability. There are entire industries dedicated to interpreting data for energy companies.
The future of electric vehicles in WA
It's amazing to think that there are still less than 2000 EV's in Western Australia. The DER document states price, range and a lack of EV charging station infrastructure as factors for these low numbers.
Western Australia has now created the Electric Vehicle Working Group to design a strategy around increasing the uptake of vehicles across their fleet with infrastructure provided both publically and privately. They've set an ambitious but realistic target of 44,000-130,000 electric vehicles within WA by 2029. Yeah!!!!
Western Australia is exploring the concept of Vehicle to Grid through EV Charging as a way to store and balance the electricity grid as part of this strategy.

The studies show that EV are predicted top increase demand for electricity potentially exacerbating the duck curve but they also are predicted to be a major source of potential battery storage.  However it's clear that EV's can be used to absorb daylight solar and excess renewables and at times of peak challenges provide the grid with a balancing force.
What's clear is the market is moving toward live electricity pricing at both a wholesale and customer level. The new off-peak may be during the day to account for the renewables available to Australians.